Once upon a time, Miami was rife with dive bars, the kinds of places where you could always find a seat at the bar, order a cheap mixed drink, and rub elbows with the working class.
Enamored by that bygone era, hospitality mensch Matt Kuscher decided to take matters into his own hands by creating his own take on the low-glamour lounge.
Don's 5 Star Dive Bar is a playful homage to Miami's most beloved "Dons" of the 1970s and '80s, a space where guests can expect to encounter nods to everyone from Don Johnson and Don Shula to Donna Shalala.
"I always try to embrace the neighborhood that we're located at, and to me, Miami's Upper Eastside is Don Bailey's neighborhood," says Kuscher, whose ventures under the Kush Hospitality umbrella include LoKal, Kush, Kush by Spillover, Kush by Stephen's, and La Cocina Coctelería. "I've been staring at
his sign
for over 20 years, and after meeting him one time, I felt like I was in the presence of a living legend. I read his book and contacted him about getting some old posters. It started from there, but then I thought: What about Don Shula? Another Miami legend."
The idea snowballed from there: Kuscher saw
Collision Course
, Billy Corben's movie about the legendary speedboat racer Don Aronow, and decided a list of Miami Dons could be a gift that kept on giving. Thence came Don Francisco, Don Strock, Don Johnson, and more.
The bar is tucked behind a staircase, with an unassuming entranceway that adds to the underground, speakeasy vibe. "It's a perfect place to hide out from the rest of the world," Kuscher tells
New Times
. Basically, a perfect spot for celebrities who don't want to be judged, or noncelebrities who don't want to get caught cheating."
Located beneath the Selina Miami Gold Dust in the city's MiMo District, the new underground 50-seat lounge will open its doors on Friday, July 9. Built in 1957, the motel remains an iconic old-school Miami motel landmark, also home to
Café Kush
, Kuscher's spin on a European-style bistro.
The 1,000-square-foot space has been decorated with nostalgia-inspiring tchotchkes with a transportive, 1980s-basement vibe thanks to soft red lighting from a neon sign that reads "
Yo amo Miami
." An authentic Don Bailey Carpeting sign — a gift from the man himself — spans the back wall.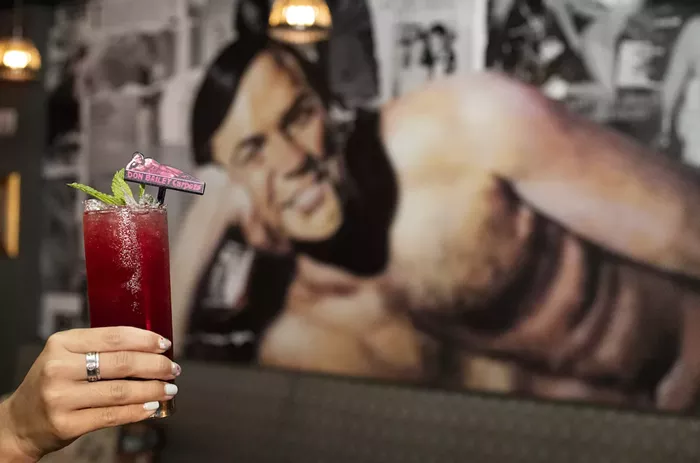 Don's best feature might be the dive bar-inspired drinks themselves. The cocktail menu includes '80s classics like screwdrivers and Tom Collins, along with a handful of cheekily named cocktails that directly reference Don's honorees.
The "Crockett Raids the Evidence Room," for example, is a riff on a
"Blood and Sand"
that's tweaked to salute
Miami Vice
star Don Johnson. "We made a dollar bill with his face on it, and rolled it up with whatever he took from the evidence room," Kuscher says of the cocktail, in which a combination of Dewar's, Lillet, and orange bitters is garnished with a faux cocaine baggie. "Like he said himself in
Miami Vice
, 'It's like taking nose candy from a baby,'" says Kuscher.
Other imbibable highlights include the "Sabado Gigante" (a nod to
Sábado Gigante
host Don Francisco), the "King of Carpets" (for Don Bailey), the "Don't F*ck With Don Shula" (for the legendary Miami Dolphins coach), and the "Donnie Hates Yoo-hoo" (for longtime Dolphins backup QB Don Strock).
Also on tap: an impressive list of local craft beers, wines, and several shot combinations. There are just two options of bar snacks— the "Lunch Box" (a peanut butter and jelly sandwich made with homemade jam, served in a vintage lunchbox with a bag of chips and miniature candy) and a house-made French onion dip accompanied by kettle chips. There's also free popcorn.
The bar pays tribute to any passing "Don" who might walk through the door. Guests who can prove their name is Don, Dawn, or Donna will receive a free shot, served from a neoprene bong.
For now, Don's 5 Star Dive Bar is open only on Fridays and Saturdays, but Kuscher plans to transition to daily hours in the coming months.
Don's 5 Star Dive Bar.
At Selina Miami Gold Dust, 7700 Biscayne Blvd., Miami; 305-985-4764; kushhospitality.com. Friday and Saturday 7 p.m. to 3 a.m.