The Indiana Pacers came into Wednesday night's game against the Miami Heat feeling real king shit about themselves, having beat the Heat 90-84 just eight days ago. They acted as if THIS GAME was no big whoop, after acting like the first meeting was the meaning of their entire life. They had the audacity to eat spaghetti in our restaurants, sleep in our beds, and court our women. They stepped onto the American Airlines Arena thinking they were about to show everyone once again how hard they own the Miami Heat.
Then that spaghetti gave their coach the shits, and they got their asses humbled, old country way. Big time, bubba.
Nobody courts our damn women.
The Heat beat the Pacers 97-94, so score this round 10-9, the champ is just getting warmed up. With LeBron James nursing a sore ankle on this night, the thought was Dwyane Wade was going to have to put more on his shoulders. Wade came out and did just that, taking 25 shots, making 15, and finishing with a "2006 Flash Dwyane" feeling 32 points. Don't call it vintage, because it didn't go anywhere, your boy don't mess.
The struggle was real for the for the Heat all night. They trailed most all of the game. They clanked 15 of the 21 three point shots they took. LeBron almost killed Chalmers during a timeout. Paul George caught fire. Michael Beasley's outfit was making everyone uncomfortable. Wendy's forgot my straw. Everything was bullshit, this night looked like it was gonna suck.
Then, just as time ran under five minutes remaining, it happened......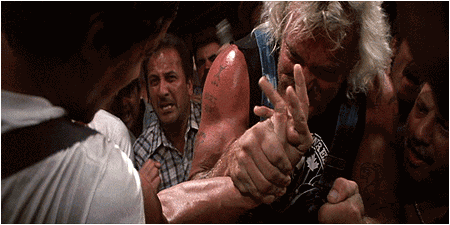 The Heat used a 10-0 run, capped by a Ray Allen three pointer, to take the lead back for good with just under a minute left. I drank straight from the cup. Everything was right in the World again. Other than what Beasley was wearing, that's still not OK.
No Larry O'Brien tophy handed out tonight as @MiamiHEAT come from behind and beat Indiana 97-94. A 15-4 run over last 4:09 by #HEAT for WIN!

— MikeInglisHEAT (@MikeInglisHEAT) December 19, 2013
Unlike Tuesday, when the Indiana Pacers won the 2020 Tokyo Summer Olympics and the 2022 Quatar World Cup, the Heat just get credit for a normal regular season win. That's OK, the real prize here is knowing the Pacers get to sit on that one until the two teams meet again in March. Christmas will pass, Heat beat you last. New Year's will come, still marinating on it. Valentines Day? STILL.
Weeks upon months, thinking about the Miami Heat, right back where you started, ya stupid Pacers. Bought, not built, deal with it.
If you like this story, consider signing up for our email newsletters.
SHOW ME HOW
X
Newsletters
YA'LL MUSTA FORGOT!!!
You're God Damn right

— Jonathan Zaslow (@ZaslowShow) December 19, 2013
Follow Miami New Times on Facebook and Twitter @MiamiNewTimes.