On any given day with good weather, you can find
artist Natasha Tomchin
enjoying the Miami sun on the sands of Haulover Beach with her dog, Bandit. A transplant from Nebraska, Tomchin moved to Miami in 2010 to attend the University of Miami — and she never left.
Although she studied history and public relations, Tomchin's university mentor guided her into the fields of computer sciences and coding. The 29-year-old can build and develop an entire website, but she prefers to use her coding skills to create art.
Tomchin has been creating in the Miami art scene for nearly a decade. As a digital artist, she primarily works on installations and collaborations with like-minded souls. In 2019 alone, she had nearly 50 installs.
She bounces in her seat and smiles as she recalls her first professional collaboration, with
light artist Olivia Steele
. The pair connected online via social media, and after a handful of conversations, Steele invited a then-22-year-old Tomchin to visit her while on location in Tulum, Mexico, to talk art.
"I was supposed to be there for three days, and I ended up staying for two weeks," Tomchin says.
In hindsight, she should have given the last-minute trip more thought, she admits with a laugh. But she doesn't regret a thing.
"Olivia [Steele] has totally guided me on how to make art and how to make a living off of it. She's an installation artist; her forte is making art and showing it."
The two artists have been collaborating on photo-friendly installations for years. One of their most-recognizable installs took place during Miami Art Week 2019, with Steele's neon art spelling out the phrase, "You'll miss me when I'm gone," with Tomchin's dichroic-film leaves acting as a sort of frame. The piece was featured at the Nautilus Hotel and the Broken Shaker bar in Miami Beach.
As she talks about collaborating with Steele and other local artists, Tomchin lights up with contagious energy.
Blue-and-white plastic earrings dangle from her earlobes as she speaks enthusiastically. The cloud-inspired accessories perfectly match her top with cloud prints. A delicate palm-tree charm dangles from the bracelet on her wrist.
"I love collaborating because I think taking my touch while showing someone else's skill, especially someone who deals with traditional art, is so incredible. Seeing someone view their art in a new way is so powerful to me."
Tomchin's latest collaboration is a video piece done with artists Beatriz Chachamovits and Charles Levine. Titled
Can You Sea Change?
the piece includes foundational ceramic coral reefs created by Chachamovits with a video by Tomchin that's reflected onto the pieces, and it's all accompanied with sounds by Levine. The interactive installation piece first debuted during Miami Art Week 2020 at the Good to Know FYI art show. It was later displayed at the lighthouse at Bills Baggs Cape Florida State Park in Key Biscayne this past March and most recently at the Soho Beach House in late June.
Next month, the piece will be featured at the
Coral Reef Festival, presented by the Reef Institute
, on Saturday, August 14.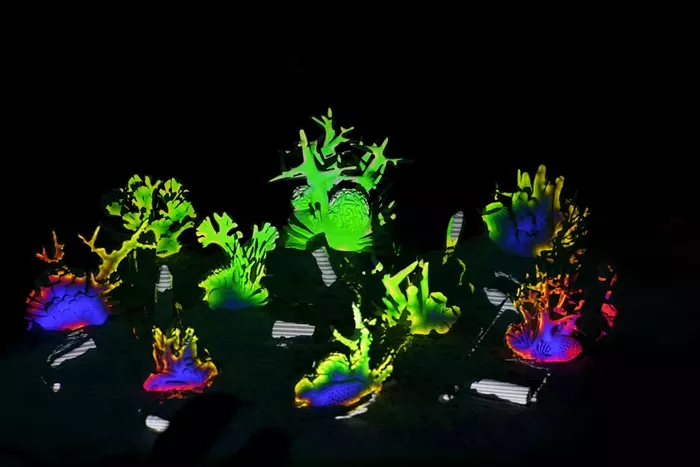 "With [
Can You Sea Change?
], it was so important for each of us to tell the story of climate change and sea-level rise in our own way," Tomchin says. "I love this project so much, and I've been so fortunate that all my collaborators have been trustworthy and incredible."
Aside from her collaborative work, Tomchin works on solo pieces, commissioned work, and plenty of event installations. Richard Branson's Virgin Voyages recently commissioned her for a piece that's sitting alone on an uninhabited island somewhere, because the cruise line has yet to set sail post-pandemic.
Her recognizable dichroic leaves — made from a sturdy, plastic film that reflects a rainbow of iridescent colors — are an instant crowd favorite at events. Recently, the installation was stationed at the entrance of
Prism Creative Group's inaugural Tropical Flea
outdoor market in April and at the storefront of
Showfields on Lincoln Road
this summer.
The artist will showcase the dichroic leaves at three private events in July. Additionally, her pieces will be the backdrop to the runway at the inaugural
Segunda Mano fashion show
on Thursday, July 8, at Paradise Plaza in the Design District. And audiences can catch a glimpse of the shiny leaves at the
Served Up
art and music event on August 20.
"My dichroic pieces have really taken off, but I truly love collaborating. I think it's more fun," she exclaims. "I create in this sort of solo vacuum, so when I get to work with other people, I get to experience the art through them, and that makes it all worth it."
When coordinating an installation, Tomchin puts herself on the side of the artist and the audience as well. It's all about how you experience the art, says the artist, which has her thinking of every element down to the smell and sound.
"I want you to see the art and have it bring you in. I want people to be enticed and say to themselves, 'I have to know what that is,'" she says, moving her fingers in a pattern like a cartoon villain while her blue hair moves in the breeze.
"That's the art of the install."