At first glance, downtown Miami can look like a ghost town, like some postapocalyptic ruin of an American metropolis. Austere buildings like the Alfred L. Dupont may have open doors, but nobody ever seems to be inside. Swaths of street feature boarded-up storefronts, with people sleeping on sidewalks outside. The only places that seem to sell anything are low-rent jewelry shops.
Look closer, though, and you'll find stylish watering holes like Over Under and Mama Tried, vegetarian restaurants like the Carrot Express and Manna Life Food, and arty stores like Andrew Skate Shop and
Dale Zine
.


"I really like downtown," says Steve Saiz, art director and co-owner of Dale Zine. "When I was growing up, my dad used to take me with him while he did construction jobs down here. I'd wander around and normally end up at the Omni, where they had this super-cool arcade and movie theater. Years later, I ended up going to the Art Institutes for art and design at the same building [at] 14th and Biscayne. There's a lot of history here."


Dale (pronounced
DAH-leh
) is a Miami-based zine publisher and art bookstore. The space was formerly located at Mana Contemporary at the 777 International Mall on Flagler Street, but that building has been
permanently closed since January 8
and is now set for demolition. So Saiz and his wife, Lillian, with help from friends and family, designed and opened a new shop a block from the previous location, at 79 SE First St.

"This store was super rundown when we first moved in," Saiz says. "It took us three months to get internet. My dad is a construction wizard, though, and he really helped us get the store together. My whole family came out to help — my mom, my little brother Harry. Friends too, like Kelly Breez, Roy Neil Hunter, Moonbeam Mike, and Lazaro Rodriguez. One of our favorite artists, Kunst, built all the shelves."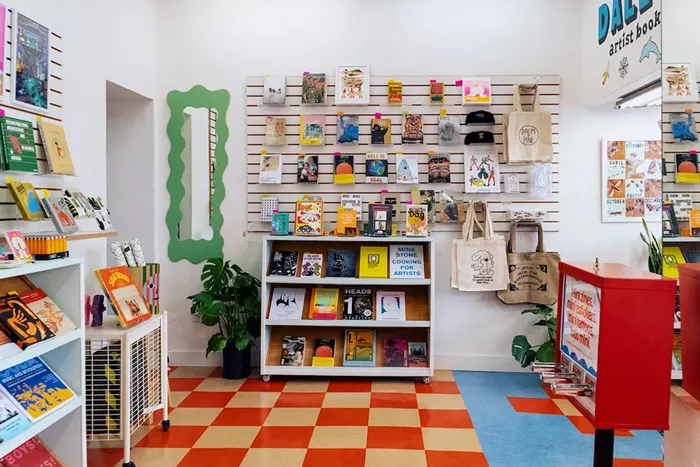 Dale Zine's interior has a nostalgic feel nostalgic, to say the least. There are benches made from square mosaic tiles that bring to mind a '90s movie theater restroom. Saddle-stitched zines are display alongside coffee-table art books on handmade shelves.

"A big inspiration for me is Waldenbooks," Saiz says. "When I was a kid and my mom took me to the mall, I'd just sit on the floor there and look at art books while she shopped. We were definitely inspired by their use of slat walls and revolving displays."


Dale Zine began in 2009 as a humble passion project. After everyone in his office had gone home, Saiz used the printer at his advertising job to create small zines on themes like art, photography, and literature. He created a Tumblr page, linked a PayPal account to it, and was soon shipping his creations around the country and the globe.


"At the beginning, Dale was very do-it-yourself," Saiz recounts. "I would be stapling zines all night. We're so busy now, we send out most of our stuff to be printed. But every now and then, we still do it ourselves. It's so fun for me to, say, screen-print a cover. Some books require handmade attention."

A big part of Dale Zine's new store is devoted to products from fellow creators with a similar ethos. Friends of Dale Zine from around the U.S. supply prints, lighters, painted light-switch covers, even artisanal chili oil, to be displayed for sale in the naturally lit storefront. Then there are the plants: dozens of potted plants, from philodendrons to calatheas to devil's ivy, supplied by Asheville, North Carolina-based
Palm and Pine
and all for sale. Miami's own Kyle Chapman runs Palm and Pine's satellite store out of Dale Zine's new shop. 

"Palm and Pine is a queer- and woman-owned space that started in Asheville," Chapman explains. "When Dale was moving here, Steve and Lillian were talking about how they wanted to sell plants. So, I introduced them to my friends. Our focus is on plants that are easy to care for and can transform a space without requiring a lot of work. Nobody wants to become a horticulturist to have a couple of houseplants."


The greenery certainly adds a lot to Dale Zine's look. Miami is an important component of the new store, and it's clear one of Saiz's goals is to be an equally important component of Miami.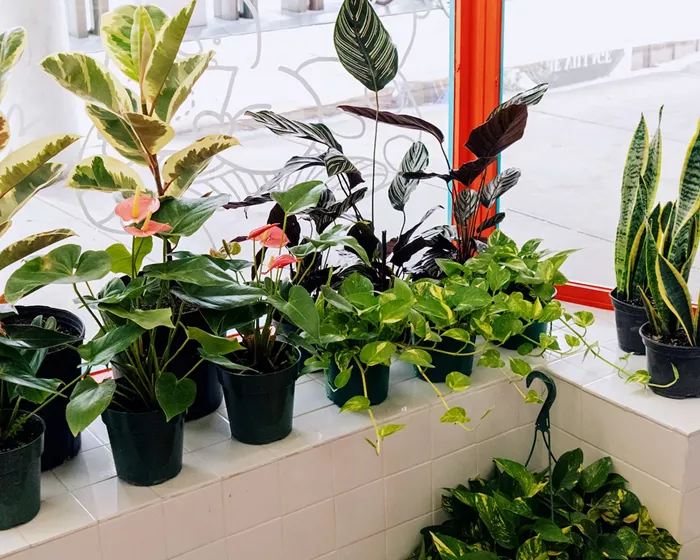 "The reason it's called Palm and Pine is because one of the founders, Lindsay Riley, has lived here on and off a bunch," Chapman goes on. "She loves Miami so much, and so when she named the store, she wanted to be connected to South Florida. This is where most tropical plants in the country are grown, it's a great place to source them."


Dale Zine is committed to fighting the glitzy materialism often associated with Miami. The team wants to give residents a space to shop for more intellectually stimulating products.

"Nobody would start this business in Miami with a level head," Saiz says, only half-joking. "We're trying to fight Miami's inherent classism. People are always popping in here looking for a jewelry store. So many people in Miami are about lavishness. However, that means we're the only one of our kind. So, while a zine shop and art bookstore might not seem like it would thrive down here, it feels like there's no one else doing quite what we do. It's like we're filling a void."


At the core of Dale Zine is its name, the Spanish catchall shortening of
ándale
that can mean anything from "OK," to "Hurry the fuck up, bro!" Saiz likes to think of the word in a positive light, similar to Nike's motto of "Just do it."


"I remember my dad always yelling
dale
at me, like,
¡Dale! ¡Levántate!
" Saiz says. "Now it's like the meaning of what we do. We try to encourage people to just go, make their art, and not wait for a publisher, or for the PAMM to hit them up and include them on a show. I say, '
Dale
, put it on a piece of paper and show it to the world.' In other cities, people will come up to me and ask me, 'Who's "
Dale
"?' Do I look like a Dale?"

Dale Zine.
79 SE First St., Miami; dalezine.com. Wednesday through Sunday noon to 5 p.m.