Hidden at the rear of Hachidori Ramen Bar in Little River, diners will find Kura Sake Bar, an intimate space designed to offer private tastings and collaborations.
The tiny space currently houses Kojin, an omakase-style dining experience led by chef Pedro Mederos that has popped up for the summer.
"We designed Hachidori with a back room and we wanted to make it an important part of the eatery," owner Guillermo Paniza tells
New Times
. "The minute Pedro saw the space, he came up with a menu and ways of bringing the concept to life. His omakase experience is a perfect complement to the sake bar offerings."
A Cuban-American chef born in Miami, Mederos can trace his passion for Japanese cuisine back to
Single Thread Farm and Inn
, a three Michelin-starred restaurant in California where he focused on
kaiseki
,
a traditional Japanese multicourse dinner.
In 2019, Mederos returned to South Florida to work under James Beard Award finalist Brad Kilgore. Last year, when many restaurants were forced into a pandemic-induced hiatus, Mederos spent his free time developing new dishes and exploring food-fermentation projects with a Japanese twist. In December, he debuted
E&P Dmplngs
in Coral Gables, a pop-up of inventive dim sum options.
The transition from restaurant to pop-up came easily to him, Mederos says.
"Any chef would have to love a big kitchen to execute amazing food, but I'm used to working at a lot of spaces where you necessarily wouldn't have a restaurant," he explains. "The space at [Brad Kilgore's restaurant] Alter was tight, and I got used to making do with what I had. It's all about focusing on what the space allows me to accomplish."
After several visits to E&P Dmplngs, Paniza invited Mederos and his wife, pastry chef Katherine Randolph, to take part in his new venture.
The speakeasy seats four around an L-shaped bar, plus four in a lounge sitting area. Cherry blossoms and parasols are sprinkled throughout the diminutive space.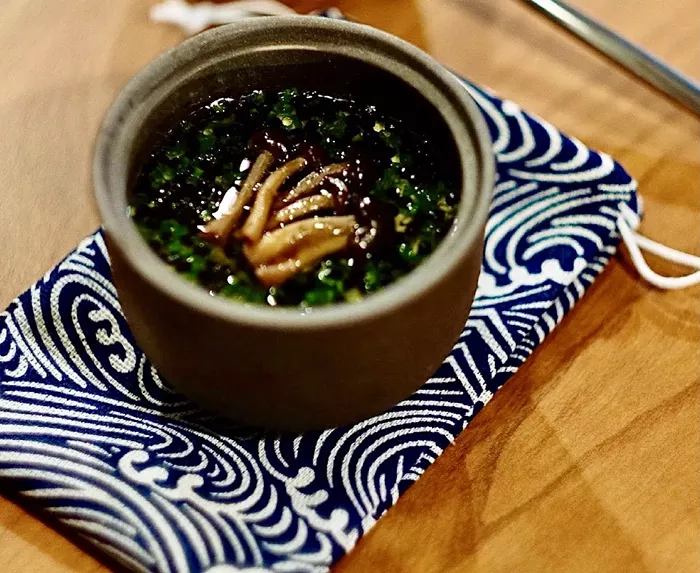 Slated to operate until mid-September, the speakeasy offers
an inventive à la carte menu
as well as a six-course tasting menu. A
washoku
(traditional Japanese food) experience is offered omakase-style, with the chef drawing up a new menu each day, then preparing and serving the meal over the course of about 90 minutes. Raw dishes such hamachi crudo and tuna tartare, noodles, salads, hot dishes, and desserts are all part of the experience, which is priced at $95 per person. A sake pairing is available for an additional $45.
"Ninety percent of Japanese restaurants are focused on sushi, but there's so much more to Japanese food than that," says Mederos. "Katherine and I want to showcase dishes that might be new here but that people have been savoring in Japan for millennia. Our goal is to make unfamiliar cuisines comfortable and fun for everyone."
To complement the food, Kura's beverage program includes a variety of sakes, beer, wine, and specialty cocktails curated by
ChatChow's
Gio Gutierrez.
Kojin at Kura.
8222 NE Second Ave., Miami; 305-904-0535; kojinmiami.com. Open Tuesday through Thursday from noon to 10 p.m., Friday and Saturday from noon to midnight. Reservations are required via [email protected]