10. Chris Bosh basically invented the GIF. It's true, he's the guy.
Before Chris Bosh signed in Miami, GIF's didn't exist. OK, that's not entirely true; but he definitely cornered the NBA market on them — good or bad. Before Chris Bosh nobody was video bombing post game interviews, now it's practically tradition across the NBA.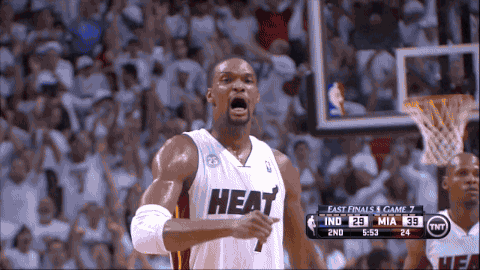 9. It's never not awesome when Bosh morphs into a dinosaur after big-time shots.
Big Shot Bosh is the best, because once the shot goes through the net you know that camera is one-hundred-percent certain to pan back to him, and when it arrives he'll be shouting to the heavens, spewing saliva in his wake. It's his version of what the kids these days call "being turnt up," I think. The only thing better than a Bosh big bucket, is the Bosh reaction to the Bosh big bucket.
8. Chris Bosh just up and learned Spanish.
Chris Bosh has shown time-and-time again he's not your everyday NBA player, and Miami Heat fans found that out day one when he introduced himself to us. He didn't just learn a few words either, your boy straight up went on Spanish TV and did Spanish TV things.