Now that the Miami Heat have punched their ticket to the Eastern Conference Semi-Finals, the team and its fans can begin to look ahead to the next challenge. The Heat next face the winner of the Toronto Raptors-Brooklyn Nets series, which is tied 2-2.
While the Raptors are the higher seed, and on paper the team you would normally least like to face, the Nets swept the regular season series versus the Miami Heat 4-0. At a loss for which team to cheer for as the Heat's next opponent? Let's guide you through the pros and cons:
Five Reasons The Heat Want to Destroy The Nets
Paul Pierce "That's why I'm here!"

— Sports Vines (@TheSportsVines) April 19, 2014
1. Ending Paul Pierce
The Miami Heat must be the ones to end Paul Pierce's face, because tradition. Imagine world hunger, childhood obesity, and every student loan debt collector ever inside a volleyball, that's Paul Pierce's face. The Miami Heat need to punt that volleyball into Biscayne Bay and watch it float away like Wilson.
2. Ray Allen's Revenge
Kevin Garnett disrespects the Jesus, and nobody fucks with the Jesus. Besides a million other perfectly valid reasons for Heat fan wanting to see the Heat beat Kevin Garnett, sticking it in him because he's mad salty with Ray Allen is perhaps my favorite. Garnett is like a jaded ex-girlfriend. After Allen left Boston to sign with Miami, Garnett said he lost Allen's phone number, because LOYALTY! Just a few months later Garnett approved a trade to the Brooklyn Nets, because THE CELTICS STINK! Glass houses bro.
3. The league's shadiest owner
Besides looking like a guy Liam Neeson has to kill on a boat to get his daughter back, Mikhail Prokhorov is of questionable war tactics, and I don't trust him. Amazingly this off-season Andrei Kirilenko just happened to decide to void his $10 million dollar option with Minnesota, then sign for seven million less with the Nets, I call shenanigans. I'm guessing there is a yacht somewhere in the Kara Sea named "AK-47".
The real question of the season is: When will Jason Kidd wear a tie?

— Jessica (@CurlsOnGirls) April 26, 2014
4. Jason Kidd payback
The Heat still owe Jason Kidd revenge from his Dallas days, and he won't wear a tie, so he must be eliminated. In case you forgot, Jason Kidd once played basketball, and the Miami Heat owe him one for the 2010 Finals defeat. Seriously though, a Jason Kidd coached team swept the Heat this season, that alone calls for some revenge.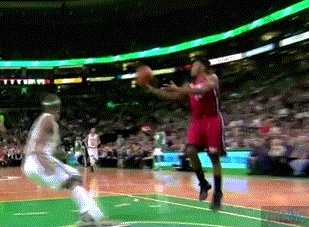 5. The ghost of Jason Terry
Jason Terry isn't on the Nets anymore, I just wanted to include his death gif here. Terry was traded mid-season to the Kings but never played, because he's a corpse, and dead people can't play basketball.
Five Reasons the Heat Want to Destroy The Raptors
1. Drake is involved
Drake is now a part of the Toronto Raptors franchise, and that's more than enough reason to want to kick their ass. Drake also deserves punishment for making us all sit through his Sprite commercial that seems like it's been running since the late 90's.
2. Canadian television witchcraft
For those of you unaware, see that sign that says "Raptors" under the basket? That doesn't exist, its a 3D-hologram-witch craft-illusion, and I find that incredibly distracting when watching Raptors games. All game long people jump on, fall over, and walk through this sign, and nothing. It's not there. You know it's not there, but it's there on your TV. I don't like your filthy television tricks, Canada.
3. Take back the Biebs
Speaking of shitty things from Canada, we didn't forget this, Canada. I don't care if he's not from Toronto, he's yours, take him back. Every little piece of revenge we can get on Canada for this is a plus in my book.
4. Your fans are making us look bad
We Believe Local Journalism is Critical to the Life of a City
Engaging with our readers is essential to Miami New Times's mission. Make a financial contribution or sign up for a newsletter, and help us keep telling Miami's stories with no paywalls.
Support Our Journalism
The Heat need to play the Raptors because the Raptors have awesome fans. Maybe too awesome. On one hand those fans really deserve to see their team advance. Thousands of fans that couldn't get into the game watching on a jumbo screen outside the building, I mean, bravo Toronto. On the other hand, hey Raptors fans, chill the hell out, you're setting the bar way too high here. Heat fans with tickets are slowly learning what time to be in there seats, meanwhile you're standing outside in the sun like it's New Years at Time Square.
5. Bosh time
Another good reason the Heat should want to play the Raptors? It would spotlight Chris Bosh, and his time with the team before signing with the Miami Heat. So often the Miami Heat are about LeBron James or Dwyane Wade, so it would be nice to see Chris Bosh get some much overdue love. Anytime we can find a reason to talk more about Chris Bosh is a good thing, because he's the best.
Follow Miami New Times on Facebook and Twitter @MiamiNewTimes.