Welcome back to the three most stressful months of your life, it's time to basketball. The NBA Playoffs have finally arrived and the Miami Heat are right where you expected them to be, firmly cemented as the odds-on favorite to repeat as World Champions. A less than dominant regular season has some wondering if the Heat can raise their level of play to the rare air they have lived in the past few years, but expecting anything less would be a mistake -- these are the back-to-back NBA Champions we are talking about, they own that air space.
First things first, the Charlotte Bobcats stand as the Heat's first test. During the Big Three Era the Heat are 16-0 versus Charlotte, although most of that came before the team added Al Jefferson this past summer. The Bobcats are the only NBA franchise that has never won a single playoff game. Needless to say, Charlotte is a gigantic underdog in this series.
The action tips-off today 3:30 p.m. on ABC. Here are a few things to watch for as the Miami Heat take their first steps in accomplishing the rare three-peat.
1. Is Wade ready to roll?
No more maintenance program, engines full throttle, all healthy limbs on deck. Coming off a season where he only played 53 games, including just six over the last month, Dwayne Wade enters the playoffs rested and ready to fight for the right to point to his jersey number as a representation of the number of championships the Heat have won in a row.
It seems as though some have mistaken Wade's absence as weakness this year, ignoring the fact that most of the 29 games he missed were pre-determined days off. When Wade did see the floor during the regular season, he was all-time efficient, finishing with a career high 54.5 percent field goal percentage. The Heat must juggle getting Wade and LeBron back accustomed to playing with one another, while at the same time making sure they don't sleep on the Bobcats so much they get caught slipping. 2. How will the Heat cope with Al Jefferson?
Don't let the Bobcats jersey fool you, Al Jefferson is a thing to worry about. Lost in LeBron James 61 point game versus the Bobcats this season was the fact that Jefferson tore up the Heat to the tune of 38 points and 19 rebounds. Jefferson averaged nearly 22 points and 11 rebounds on the year, and is as talented a big man as the Heat will face in the playoffs. Chris Bosh figures to match-up with Jefferson, with Udonis Haslem possibly taking on the task from time to time depending on the situation. Slowing down Al Jefferson would go a long way in making sure the series against the Bobcats is nothing more than a tune-up for bigger and better things. Letting him dominate the boards as he has against them in the past could lead to a harder than anticipated first round series.
3. What will LeBron do this time?
Like you need to be told to watch this guy, like you have a choice. LeBron enters these playoffs looking to cement, well, everything. You can't mention a three-peat without referring to the team as a dynasty, it's impossible. The only question is how far will his game elevate? Can he possibly top the amazing things we have already witnessed? Like Wade, LeBron had the most efficient year of his career, but at times it seemed as if he was either bored, or on cruise control. It would make a lot of sense if he was a little of both, because April to June is where his legacy lies, and what he will for the rest of time be remembered by.
If LeBron wants to continue to put his name in the conversation of the best of all-time, having his own three-peat would be one hell of a thing to point to.
4. Can UD continue his late-season renaissance?
Born and raised in the county of Dade. Just when you thought Udonis Haslem may be closer to Alonzo Mourning's role on the team than contributing on the court, your boy came out in the last month of the season wrecking ass. Haslem was a completely different player when he re-entered the rotation late in the season. A healthy productive Haslem was exactly what the Heat were lacking.
Haslem's play has been so improved, that he is the odds on favorite to start alongside the Big Three and Chalmers come playoff time. It wouldn't have felt right if the Miami Heat went to war without contributions from Udonis Haslem, and thankfully it seems as if that won't happen. Heat fan wouldn't have it any other way.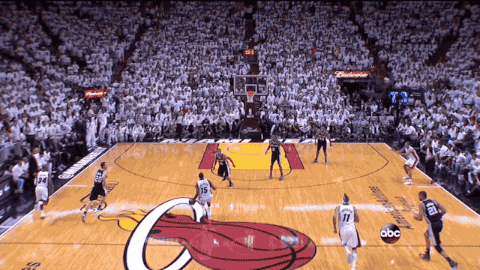 5. Will Chalmers be enough at point for the Heat?
Point guards my life. While the Heat are likely to live and deal with the contributions of Mario Chalmers, beyond him the point guard spot seems a bit up in the air still. Toney Douglas's stellar defensive play, combined with the inexplicable decline of Norris Cole as of late, make for a interesting situation at the backup point slot.
During the season, dealing with underwhelming point guard play could be hidden, but in the playoffs expect the Heat to abandon the backup point guard position entirely if they can't find a solid few minutes from one of the two subs. Mario Chalmers has a reputation for coming up big in tight situations in his career, so Heat fan has to feel good about him heading into the playoffs, but Norris Cole can no longer be relied upon, and that's discouraging.
Coach Spoelstra seems to be leaning towards believing in the second year player, and will give him the first shot at the chuck of back-up guard minutes. How he handles it, or Douglas takes it over, will play a major role in how the Miami Heat fair when the benches get in the game.
Some key stats to consider:
Season Series: Heat swept 4-0
Scoring leaders: Heat - LeBron James (27.1), Bobcats - Jefferson (22.0)
Points per game: Heat 102.4, Bobcats 96.9
Points allowed per game: Heat 97.4, Bobcats 97.2
If you like this story, consider signing up for our email newsletters.
SHOW ME HOW
X
Newsletters
And the full schedule should this thing go past four games:
Game 1 - Sun April 20, Charlotte at Miami, 3:30 p.m.

Game 2 - Wed April 23, Charlotte at Miami, 7 p.m.

Game 3 - Sat April 26, Miami at Charlotte, 7 p.m.

Game 4 - Mon April 28, Miami at Charlotte, 7 p.m.

Game 5 * Wed April 30, Charlotte at Miami, TBD

Game 6 * Fri May 2, Miami at Charlotte, TBD

Game 7 * Sun May 4, Charlotte at Miami, TBD
Follow Miami New Times on Facebook and Twitter @MiamiNewTimes.