Chris Bosh scored 31, and LeBron James finished with 27 points, 13 rebounds, and six assists in a 109-102 Miami Heat win over the L.A. Lakers Thursday night. Chalmers and Cole both chipped in 11; Ray Allen had 10.
Paul Gasol had 22 points and 11 rebounds for the Lakers in the loss.
Dwyane Wade sat for the fourth straight game and with knee soreness for the 13th of 43 contests. The Heat improved to 7-6 without Wade, while 24-6 with him.
I did the numbers, and it seems as though these two straight wins put the Heat on the verge of a winning streak. It has happened before.
Kobe Bryant can't even watch! #heat #lakers pic.twitter.com/dcgMn0r8T5

— Adam Kuperstein (@AKuperstein) January 24, 2014
The Lakers are now Paul Gasol and a bunch of guys you'd heard of but never seen till yesterday. It's odd watching the Lakers field this kind of squad. It reminds me of the last couple of seasons of Scrubs, just not the same. It feels different, almost like you're getting robbed. Very flea market, this version of the Lakers.
Love or hate Kobe, his presence alone would have made this game much more entertaining. Instead, it was LeBron James versus Robert Sacre, and someone named Ryan Kelly started.
@IbraArif24 "@NBAMemes: Kobe Bryant after LeBron James, Chris Bosh, & the Heat dominate the Lakers! pic.twitter.com/qU3Fw9V1AV"

— Vito Said (@vitosd25) January 24, 2014
Play of the Game
Ridiculous. This might be the fastest I've ever seen LeBron with the ball. He takes it from coast-to-coast like a kickoff return and then slams it through the uprights. He does all this with the same face I have to make when reading small font. Honestly, I can't understand how we are the same species.
"@Rizzmigizz: YES! GOAT JERSEYS. RT @IraHeatBeat: Heat playing in black throwback tn pic.twitter.com/JOsWXpc9bA" @HeatBoner would be proud, RIP

— Douglas Cannon (@DouglasCannon) January 23, 2014
For the first time this season, the Heat players wore their "Throw Black" jerseys last night, my favorite uniform of all time. Last season around this time, the Heat pulled them out and proceeded to whoop that NBA ass for a good two months, including a 27-game winning streak. It's obvious these uniforms have the good juju.
"@MiamiHEAT: Congrats to @KingJames and @DwyaneWade on being named as 2014 NBA All-Star starters for the East! pic.twitter.com/iVwfaTTcI3"

— Tony Fiorentino (@TonyHEATWC3x) January 24, 2014
Before the game, the All-Star teams were announced, and LeBron James and Dwyane Wade were selected as East starters. LeBron led all players with 1.4 million votes, because he's frickin' awesome, while Wade pretty much just cashed in on the fact that the fans vote for this thing and he's their favorite, so deal with it, Steven A. Smith.
Alternates will be announced this week, and it's likely Chris Bosh will make the team as a reserve. Mario Chalmers isn't expected to make the team, even though Mario Chalmers voted for himself a lot, probably.
Adidas revealed its 2014 All-Star game jerseys last night, and they are hella butt, total full-on butt. Even Orange-Jersey-Wearing Miami Marlins Fan thinks this jersey is hella butt, which is saying a lot, because that guy is colorblind and makes poor decisions.
Introducing the 2014 @NBA All-Star jerseys to be worn by the best players in the game on February 16. pic.twitter.com/uLTBERzpPI

— adidas Basketball (@adidasHoops) January 16, 2014
Next up for the almost-streaking Miami Heat are the San Antonio Spurs this Sunday. The last time the Spurs were in town, well, you know.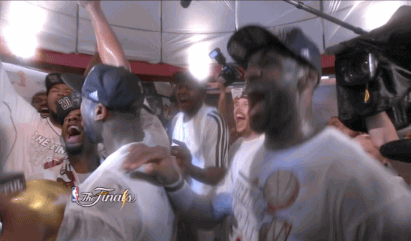 Follow Miami New Times on Facebook and Twitter @MiamiNewTimes.