Just another lazy Sunday afternoon. Just another dominating performance by LeBron James. Just another Knicks loss. Like they say, all totally predictably awesome things come in threes.
This past Sunday, LeBron James continued to put the shorthanded Heat on his back by scoring 38 points, along with five rebounds and six assists, in a 102-91 New York Knicks playoffs-hopes-crushing Miami Heat win. And he did it hours after wearing quite a ridiculous hat!
On Sunday, some history was made. Not by the Heat or by LeBron's headwear, but rather the Knicks "LOL Cannon" J.R. Smith. Smith set an NBA record for most threes taken in a game, chucking up 22 "eff it" treys, making ten of them. Smith also passed Ray Allen for the most threes made in three consecutive games with 24. After the game, even J.R. Smith's own team couldn't believe how hard J.R. Smith went full JR Smith.
Stoudemire told Felton that JR Smith took an NBA-record 22 threes in the loss. Felton said in response, "Jesus Christ."

— Chris Herring (@HerringWSJ) April 6, 2014
Carmelo Anthony, nursing a sore shoulder, was a nonfactor all game long, finishing with 4-17 for 13 points.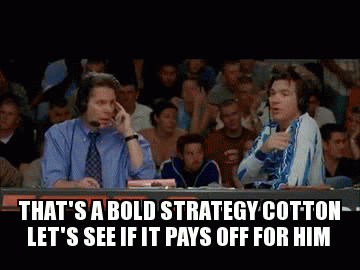 At one point, the Knicks decided covering LeBron wasn't working so well, so screw it all. To their credit, it didn't exactly work out worse than trying, just pretty much the same, so kudos to them for conserving energy. Very green of them.
Knicks do things that actually make me mad even though I'm a heat fan lol...

— Simon Smith (@RickySpanish22) April 6, 2014
Later in the game, the Knicks took the opposite approach, trying really hard to stop LeBron. That didn't work either. Instead, LeBron took their effort, wrapped it around his torso, laughed at its pathetic grip, relieved himself of its constraints, and scored anyway. Resistance is futile, Knicks. Your effortless approach was far less gruesome.
Tim Hardaway Jr. wraps up LeBron on the break, but he makes it anyway & flexes in celebration http://t.co/jJzC4cmNGx pic.twitter.com/5KmxgxZTEu

— Beyond The Buzzer (@BeyondTheBuzzer) April 6, 2014
LeBron James. Too big. Too fast. Too strong. Too good. Best player in the world.

— K-Hoff (@brehwyatt) April 6, 2014
#KiaMVP lebron james Heat Just Strong Enough pic.twitter.com/yRRTqXNwSp

— jswag305 (@jswag3051) April 6, 2014
HEAT vs KNICKS James yells after basket @KingJames @NBA @miamiherald #heat @MiamiHeatTweets #miamiheat pic.twitter.com/DUbhDoRasu

— Charles Trainor Jr (@CTJPhoto) April 6, 2014
If you like this story, consider signing up for our email newsletters.
SHOW ME HOW
X
Newsletters
( LEBRON JAMES ) THE #KING JAMES ;$ THE #STRONG; 38 PTS, 6 ASiS, 5 REB ☺ ♥

— ησ ρrσbℓєм' ♥ (@Yosvaldi) April 6, 2014
"@NBAGuru: LeBron STRONG."

— Jose (@Jmarte821) April 6, 2014
LOL RT @desusnice: Mike Woodson not even drawing plays, just asking the Knicks what their favorite Lebron play been so far.

— OKITA (@OKITA23) April 6, 2014
Follow Miami New Times on Facebook and Twitter @MiamiNewTimes.