Now things start to get interesting. The Bobcats series was cute and all, with some mild excitement and dramatic moments here and there, but now is when things get super-really real. Tonight in Miami, the Heat faces the Brooklyn Nets, a team that swept the regular-season series in game one of the Eastern Conference semis.
The two teams have zero rivalry, especially considering the Nets moved to a new city this year, but somehow a good amount of hate was created in that limited time. That makes for what should be terrific entertainment.
For the Heat to step over the Brooklyn Nets on its way to a three-peat, a few questions must be answered.
Continue Reading
1. Just how annoying will Paul Pierce be?
Paul Pierce was not good this season. In fact, it was statistically his worst season as a pro. So, of course, he averaged 21.3 points and shot 55.3 percent from the field in four games versus Miami, because of course he did. Paul Pierce has gone from a guy whom teams feared this time of year, to a player whom people best describe as "having old-man YMCA game." The best way for the Heat to avoid getting beaten by an old man from the YMCA is to make sure the game isn't close enough for him to burn them at the end.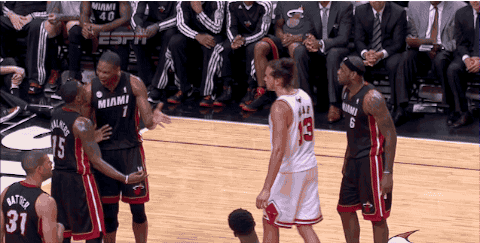 2. Mario or Wario?
For all the crap Mario Chalmers gets from the fans, his teammates, his family, and Obama, he remains a very important piece of the Heat's attempt at a three-peat. Chalmers matches up against Deron Williams in this series and needs to perform well. Any Heat fan will tell you Chalmers is the most frustrating Miami Heat player of the past decade -- maybe ever. Good Mario Chalmers more often than not will go a long way to support the Big Three and help the Heat end the Nets season and probably Kevin Garnett's career. That would be cool.
3. On a level of one to Dwyane Wade, what Dwyane Wade will we get?
After a season of limited minutes, the time has come to see what it all got Dwyane Wade. The Bobcats were no real test, but it seemed as if the maintenance program had done him some good. Against the Nets, Wade will be asked to do much more than he was in the last series, so it's time to see just how much of the "old Wade" is left. We are going on about three years of people counting this guy out, yet he still rises to the occasion each and every time. Chances are this year won't be any different.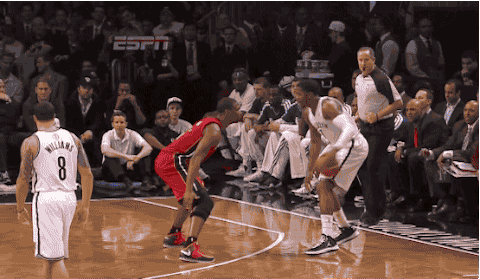 4. Who is the Joe Johnson stopper?
Joe Johnson was the forgotten man heading into this Nets' season. Much more attention was paid to the Nets' acquiring of Paul Pierce and Kevin Garnett, but Johnson is without question the most dangerous Nets player right now. Johnson was on fire against the Raptors and has had big games against the Heat in the past. So who sticks him? Both the Heat and the Nets have the advantage of being teams with interchangeable parts, so it will be interesting to see whom the Heat decide to assign Johnson on D. If there is one thing the Heat has a problem with, it's deadly three-point shooters, and that's exactly what Joe Johnson is when he gets going.
5. Will LeBron James -- ha-ha-ha, of course he will, stupid!
It once was a question as to whether LeBron could come up big when the games got bigger. That's no longer a thing people ask. The only question is how big. Even reading the most in-depth previews of this series, I came across the same statement as to why the Heat is the clear favorite: This team has LeBron James, and the others, the others do not. LeBron is always going to LeBron, the only thing to watch is for the times when he completely blows the top off a game, in ways no other player in the game can. We are in the fourth year of enjoying LeBron James on the Heat, and it seems to just keep getting better. There is no question as to what the most important thing in this series is, it's the fact that the Heat have LeBron James, and the Brooklyn Nets do not.
Heat vs. Nets
Game 1: 7 p.m. today in Miami
If you like this story, consider signing up for our email newsletters.
SHOW ME HOW
X
Newsletters
Game 2: 7 p.m. Thursday in Miami
Game 3: 8 p.m. Saturday in Brooklyn
Game 4: 8 p.m. Monday in Brooklyn
Follow Miami New Times on Facebook and Twitter @MiamiNewTimes.