The Miami Heat lost to the Atlanta Hawks Monday night, 121-114. The game started at 5:30 p.m., and ended at 8:02 p.m.
That recap of the game gives pretty much as much effort as the Miami Heat defense right now. I will only continue out of respect to Pat Riley.
The Heat continue to play musical inactive chairs, while giving you only a small percentage of the Miami Heat they used to Miami Heat ya. The 121 points the Heat gave up Monday were the second most they have surrendered all season, and it could have been much worse -- they trailed a ridiculous looking 71-70 at the half.
The Hawks scored the most points they have scored in a half all season, while giving up the most they have this season on the other end to the Heat. This was like the shittiest All-Star Game ever.
LeBron and Bosh continue to carry the load, LeBron with 30 on this night, while Bosh scored 21. Chalmers had 17, 14 before the half.
Paul Milsap, Heat killer, scored 26. Because of course he did. Why wouldn't he? He's Paul Milsap.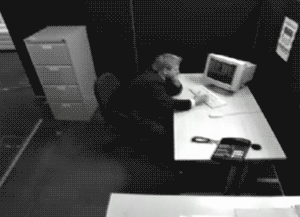 Nope, not getting old, still pretty awesome every time this happens. If the Heat would just play more defense we would get so many more of these. Just 13 Hawks turnovers last night, and they scored at will, so this was as good as it got highlight wise last night.
RT @CoachSpo ¯\_(ツ)_/¯

— Silky Bruh Johnson (@HeatBoner) January 21, 2014
If you like this story, consider signing up for our email newsletters.
SHOW ME HOW
X
Newsletters
Wade plays, Birdman out. Battier out, Wade out. Birdman in Wade out. The Heat are a completely different monster night in and night out. At one point the lineup was Chalmers-Mason-Lewis-Beasley-Andersen, rotations are far from set. Eh, it January. That's what the box score should say, "Hawks - 121 Heat - Eh, it's January"
This happened on the internet last night. It will haunt me even after I die.
We're done here. RT @Rizzmigizz: stop the game. RT @Rakwon_OGOD: This gotta be Chris bosh pic.twitter.com/YZV44Fofrp

— David Block (@davidraider88) January 21, 2014
Follow Miami New Times on Facebook and Twitter @MiamiNewTimes.