Bret Michaels
The Florida Marlins' Super Saturdays series at Dolphin Stadium, Miami Gardens
April 5, 2008
Better Than: Watching Rock of Love's Daisy mangle the national anthem
Saturday night, sometime during the seventh inning of the Florida Marlins -- Pittsburgh Pirates game, the Fish were up 7-3, and the small crowd that was assembling deep in the team's clubhouse complex couldn't have cared less. Rather, the gaggle of twentysomething women, burly dudes, even entire families with small children gasped, whispered, and pointed every time the door to room 301, the Sprint corporate box, swung open.
Inside was the man of the hour -- Poison-frontman-cum-reality-TV-star Bret Michaels -- and the fans had won entrée into a special meet-and-greet by calling into 93 ROCK. In groups of four, they were quickly hustled in and out, the crack of the door revealing constantly popping flashbulbs and a glimpse of Michaels, taller than expected but of course wearing the requisite bandanna-and-cowboy-hat combo (white and black, respectively).
The first group of fans assembles for a photo op.
After the last fan was gently, but quickly, ushered out, Michaels himself burst forth, flanked by Big John, apparently his body guard in real life as well as on his VH1 reality show, Rock of Love (seasons one and two). As Bret -- his wildly popular series having put me and other viewers on a false, fantasy first-name basis with him -- cooed over a fellow reporter's baby, the various press types straggling in the hallway couldn't help yelling about the show.
"Who'd you pick?" A few demanded. "Ambre! Ambre!" Shrieked others.
"Actually," he said, flashing a mischievous grin, "I brought Lacey back." Then Big John whisked him away, and it was almost show time.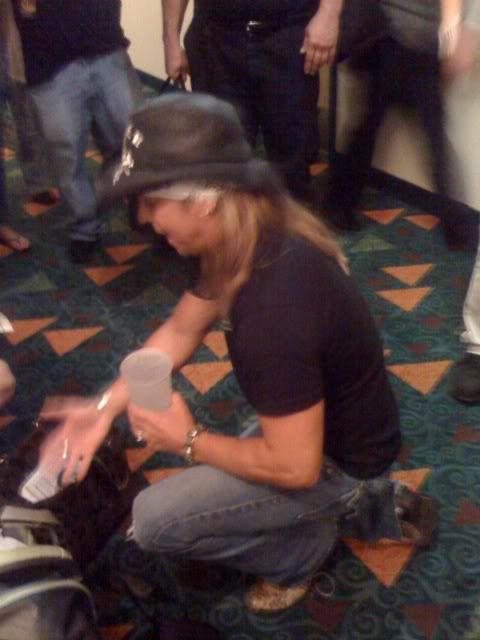 Bret loves the kids
Downstairs, the scene was even more frantic. Corralled into one of Dolphin Stadium's spiraled ramp were even more fans -- easily a couple hundred -- who hadn't won a meet-and-greet, but had won on-field access to Bret's post-game concert. There were, of course, plenty of surgically enhanced women, as well as a surprising number of, um, more burly dudes, who seemed hell-bent on pushing to the front.
The game over (and the Fish victorious), the crowd was herded onto the field, just behind the foul line. "There is NO running towards the stage!" A security guard yelled, and futilely -- as soon as another gave the nod, there was a lightning-speed, mass surge towards the on-field stage, leathery-tanned limbs pushing and flailing.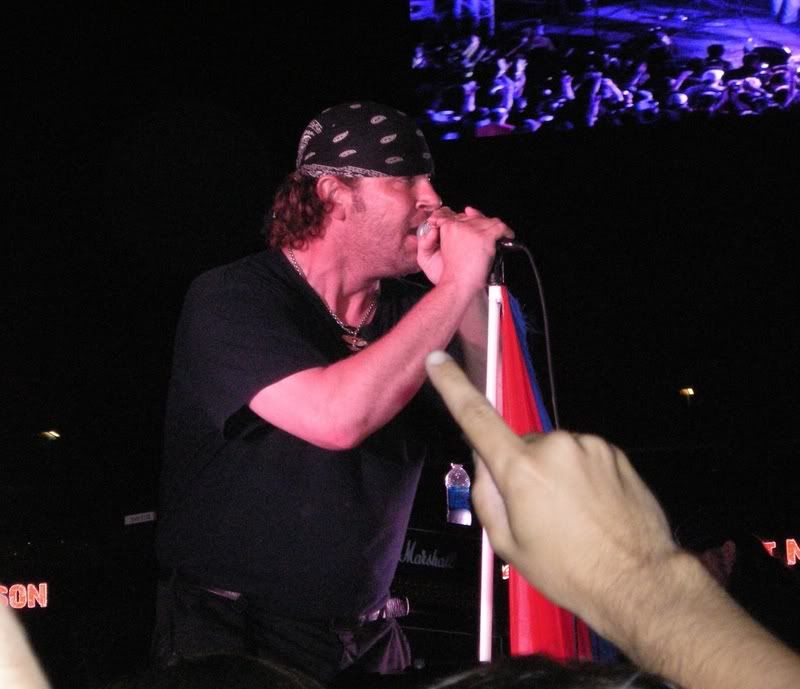 Bret's famous security guard, Big John, revs up the crowd
And after a quick introduction by 93 ROCK's "Naughty Natalia," and then by Big John, out came Bret, to deafening whoops and the waving, clawing hands of the Rock of Love wannabes clustered at the front barrier. Although backed by the band he uses when making solo appearances, he performed mostly Poison songs, as well as a few covers and one new solo number.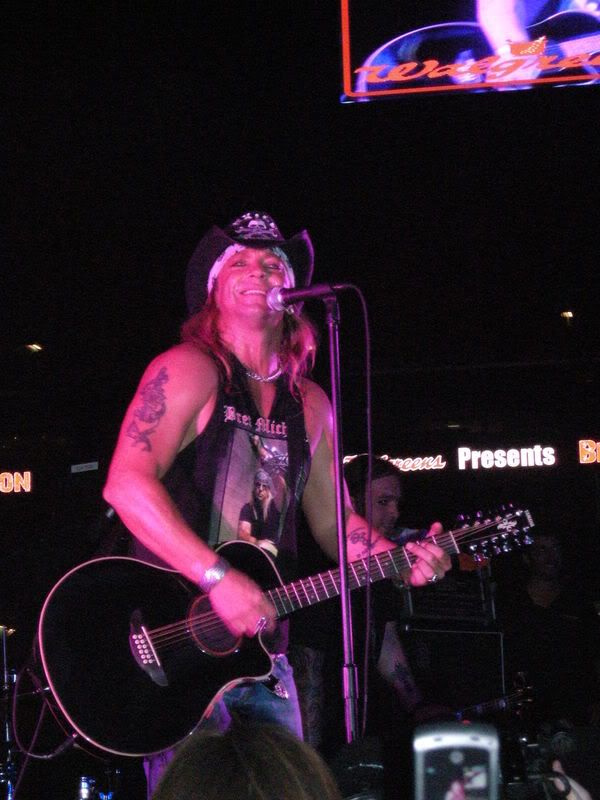 Bret Michaels: Just happy to be there
His voice was raspy, but surprisingly powerful, and seemed driven by a golly-gee-whiz, just-glad-to-be-here happiness to be onstage in front of such rabid fans in 2008. No matter that most of them hollered out commentary about his TV show, rather than Poison version 1.0 (the crowd liked Daisy, but there were no cheers, perhaps tellingly, for Destiney, eliminated in Sunday night's episode). They were here, they were excited, and that's all that mattered. In the age of reality-series resurrections, Bret Michaels was clearly having a ball with his second coming. -- Arielle Castillo
Set List:
-"Talk Dirty to Me"
-"Look What the Cat Dragged In"
-"Sweet Home Alabama" (Lynyrd Skynyrd cover)
-"Your Mama Don't Dance"
-"Something to Believe In"
-"Knocking on Heaven's Door" (Guns n Roses via Bob Dylan cover)
-"Unskinny Bop"
-"Driven"
-"Every Rose Has Its Thorn"
-"Fallen Angel"
-(encore) "Nothin' But a Good Time"
Personal Bias: I'm a little ashamed to admit I've followed, with alternating hororr and fascination, both seasons of Rock of Love.
Random Detail: You know you're a superstar when you get onstage rocking a T-shirt of yourself, as Bret did.
By the Way: A solo album of new Bret Michaels songs, featured on Rock of Love, is forthcoming, he said onstage. For now, a couple singles are available on iTunes.