Normally, being told that Chris Bosh would miss the rest of a season would be tough enough for Heat fans to stomach but when we all heard earlier this week exactly why he would be done playing, it completely broke our hearts. What at first seemed like a precautionary trip to the hospital to check out some soreness, turned into a frightening diagnosis nobody expected. This was no cracked-rib or pulled abdomen muscle — Bosh had developed blood clots in his lungs.
Luckily, one of the perks of being an NBA player is that you're constantly surrounded by people looking after your health. Bosh's issue was caught quickly, and after clutch-treatment, reports are he is to be close to being released from the hospital. What has been a tough time for Bosh, his family, and his fans, could have been a lot worse. Now that it seems like everything is under control health-wise with Chris Bosh, we can all breath a sigh of relief knowing that one of Miami's favorite sports personalities people ever, should be OK.
Consider this our get-well card, Bosh.
See also: Chris Bosh Hospitalized, Lungs Tested for Pulmonary Embolism
10. Chris Bosh basically invented the GIF. It's true, he's the guy.
Before Chris Bosh signed in Miami, GIF's didn't exist. OK, that's not entirely true; but he definitely cornered the NBA market on them — good or bad. Before Chris Bosh nobody was video bombing post game interviews, now it's practically tradition across the NBA.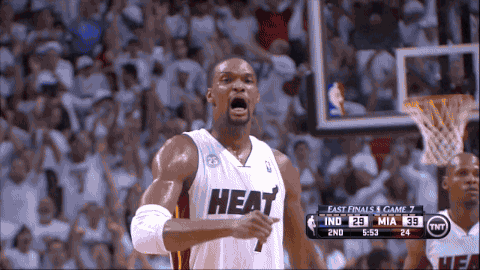 9. It's never not awesome when Bosh morphs into a dinosaur after big-time shots.
Big Shot Bosh is the best, because once the shot goes through the net you know that camera is one-hundred-percent certain to pan back to him, and when it arrives he'll be shouting to the heavens, spewing saliva in his wake. It's his version of what the kids these days call "being turnt up," I think. The only thing better than a Bosh big bucket, is the Bosh reaction to the Bosh big bucket.
8. Chris Bosh just up and learned Spanish.
Chris Bosh has shown time-and-time again he's not your everyday NBA player, and Miami Heat fans found that out day one when he introduced himself to us. He didn't just learn a few words either, your boy straight up went on Spanish TV and did Spanish TV things.
7. Bosh is the Dad you always wanted but couldn't have because your Mom is selfish.
Chris Bosh seems like the coolest Dad, sometimes I like to imagine what it would be like if he was my Dad; then I realize that would be weird because we are about the same age. It wouldn't have to be weird, but people would totally judge us at the mall.
6. Just look at that face, look at it. Do not deny yourself that face.
Look at the face. Drink it in. This reason is just that face.
5. Chris Bosh is more Miami than most people that live in Miami.
Seriously, Chris Bosh came here from Toronto, cut off his dreads, and the next thing you know he's playing polo and speaking Spanish stage-side at fashion shows — what have you done that is more Miami than that? Chris Bosh is fancy as hell.
4. Boshy Bear is hilarious.
Even when Chris Bosh isn't trying to be funny, funny things just end up happening — he's the most entertaining player in the NBA. I wish I had a Boshy Bear to play with as a kid.
A team photo from today's practice that Coach Spo sent to @chrisbosh!

We're thinking of you, Chris. #GetWellCB pic.twitter.com/rzLMppGLjn

— Miami HEAT (@MiamiHEAT) February 24, 2015
3. Chris Bosh is the best teammate ever.
Everyone that plays with Chris Bosh loves him. Hell, guys on other teams seem to love him more than their own teammates. He sacrificed his game when he first got here and has said all the right things along the way — even when at times that thing was straight-to-the-point real talk you might not have wanted to hear.
Re-posting my column from last night on Chris Bosh http://t.co/Mn97v5q98Y

— Ethan J. Skolnick (@EthanJSkolnick) February 21, 2015
2. The media can't get enough of him, because he treats them like actual people.
First of all, if you haven't read this column Bleacher Report's Ethan Skolnick wrote, leave this ridiculous post and go read that, then come back here and read the rest of this. Ha! Gotcha, two-clicks! Bosh is respected by everyone who interacts with him because he gives respect, seems easy, but it's a rare quality in a person these days.
1. Even when you're down, he still has a way of making you smile.
After LeBron left Miami fans were super depressed, but soon after, there was Chris Bosh to cheer us up. Bosh saved us from being completely devastated at the time, and even though this season hasn't gone actually according to plan, it's been comforting knowing he's a big part of this cities future.
Get well, Chris.
---
Follow Miami New Times on Facebook.