Love it or hate it, reality television is here to stay; and unfortunately, over the years Miami has been one of the genre's favorite towns. Yeah, sorry about that, America. MTV gave us the greatness that was the
Real World Miami
in 1996, but it seems since then anyone and everyone filming a reality show has at some point picked Miami to be the setting for one of their seasons. Whether it be a bunch of cameras following a group of kids around while they GTL or an assortment of rich wives complaining about their first world problems, Miami has become the place to film that thing.
Some have been entertaining, and even informative; but most have been bad. Very, very, bad. Here are the ten worst reality shows ever filmed in Miami. Let's take a walk down a bad memory lane.
10. Basketball Wives
First of all, some of these "wives" weren't even married to the basketball player they are linked to in this show; that alone makes this show stupid enough to make this list. This is the sort of show that makes you want to brush your teeth, take a shower, and read a book after watching; just to cleanse yourself of it's stupid. Created by Shaquille O'neal's wife, Shaunie O'Neal,
Basketball Wives
is full of cheating, shadiness, and stereotypical cat-fights; so it's very Miami, in that sense.
9. Making The Band 4
The fourth season of Diddy's
Making The Band
focused on the musical acts of
Danity Kane, Day26
and Donnie Klang; riggggghhhht. While we must admit the earlier installments of
Making The Band
were highly addicting in a
Honey Boo-Boo
kind of way; by the time
Band
hit the fourth season it was just God awful. You can basically fit the entire plot of these
MTB
shows into a tweet, yet somehow the series lasted 12 seasons.
MTB4
's 38 episodes were the final knife-to-the-zombies-head for this series, so at least something came good out of following
Danity Kane
around for months-upon-months.
8. Room Raiders
This show was ridiculous, borderline criminal in nature, and obviously fake as hell. It all begins with a van screeching to a halt in front of three young men or women's homes. The men inside the van proceed to break-and-enter the co-ed's home, abduct him/her, then park somewhere so they can proceed to watch a potential mate (or a friend of said mate) rifle through their personal belongings. At the very end the guys or girls get to return the favor, going straight to the underwear nearly every time...because underwear is never-not funny when you are 17, I guess.
Not once did the MTV crew happen upon a teenager smoking weed or masturbating; first clue this entire ordeal is a fabricated made-for-television fraud.
7. Kourtney and Khloe Take Miami
More like Kourtney and Khloe make the longest DASH commercial ever. I don't have to tell you everything that is wrong with
Keeping Up With The Kardashians
and the never-ending spin-offs that have since followed; you're likely well aware.
Take Miami
is like the best-quality TMZ video ever, minus the "dom-dom-dommmmmmm!" Eventually Kim replaced Kourtney and things got even worse; because Kim Kardashian is the guardian at the gates of hell.
6. Bad Girls Club: Miami
If you never saw
Bad Girls Club: Miami
, it's the same as
Real World
, just with more lip gloss. Girls named "Venus" and "Cat" populate a mansion near Biscayne Bay, and eventually drama ensues; because
Bad Girls
, you see. Each girl is given a "house nickname" like "The Sneaky Stripper," "The Trash Talking Cheerleader," "The Uber Bitch," and "The Kung Fu Diva." So yeah.
You didn't watch this show, but if you did, who hurt you? Are you OK?
5. Hogan Knows Best
Every episode of this show was exactly the same. They all start with the Hogan and his family sit around the kitchen talking about something, eventually Hulkster has a business meeting in which he reminds everyone the George Foreman Grill would have been the Hulk Hogan Grill if he didn't miss a phone call, and then at some point Brooke has a music thing that requires her to wear clothing that Hulk does not approve of. Hulk Hogan didn't deserve this, no matter what he was paid. A little pieces of everyone's childhood died every week this show aired. R.I.P.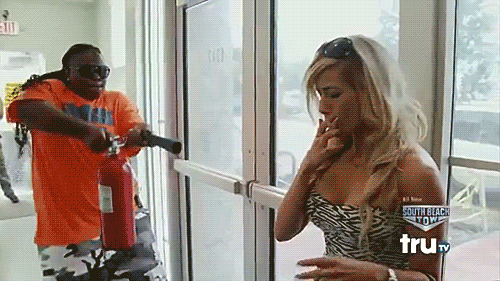 4. South Beach Tow
A television show based on dramatized reenactments of things that happened when people got their car towed: proof that we have officially run out of ideas for TV shows. The worst part about this show is that a large majority — of not the smartest people — believe the shenanigans that take place in this show are real, maybe because it's on TruTV.
Many people called the network out on their BS after filming of the show was caught on tape, showing actors patiently awaiting the start of a chaotic towing-situation. Since then the network admitted the show isn't actually real, and has added credits to the end of the show that read "the stories that are portrayed in this program are re-in-enactments based on real events." Duh.
3. Real Housewives of Miami
RHOM
was the seventh-chapter in the
Housewives'
book, and to no one's surprise, it was one of the least memorable.
RHOM
follows the basic script of all the
Housewives
seasons, but this time the wives were more MILFY. If you love watching the
Housewives
series, you probably loved this show, because let's be honest; you have too much time on your hands, and you make poor life choices.
RHOM
should have been based on Kaiser University nursing assistant graduates juggling their 9-5 and three kids; that would have been the real deal.
2. Brooke Knows Best
Real talk: This show was just the result of some VH1 suit too scared to say no to Hulk Hogan, because there is literally no other possible explanation for thinking this was a good idea.
BKB
was a thirty-minute show including commercials, and those commercials were by far the best part of each episode. Nowadays you can now find Brooke Hogan, just kidding — nobody knows where you can find Brooke Hogan. Look above at the gif, now imagine that for 23 minutes every week; that's the show in a nutshell.
1. Jersey Shore 2
We as a city contributed to this thing, for that we will always feel equal parts shame, and regret. MTV's
Jersey Shore
came in, all tan and laundered, and broke every single MTV ratings record ever in it's first season located at, wait for it, the New Jersey shore. MTV was then faced with the decision as to what to do for an encore, and they decided to throw heir guido and guidettes into the fire that is South Beach's belly. The result was exactly what everyone expected — drunken-triple-kissing-fist-pumping-brawling-chaos.
Miami actually fought back,
banning Jersey Shore from filming in many clubs and bars
, mostly based on the reputation they had earned from the first season.