^
I Support
Local
Community
Journalism
Support the independent voice of Miami and help keep the future of New Times free.
This Sunday night, The Walking Dead returns for the second half of season five. It got me thinking: What if The Walking Dead were set in Miami? Yes, this is a thing I have spent time thinking about, mainly because so many details in the original are so ridiculously Georgia-specific.
If The Walking Dead were in Miami, multiple things would change, some for the better and some for the worse. Here are a few ways I dream The Walking Dead Miami could go.
See also: Disney Finally Has a Latina Princess; That's a Pretty Big Deal
10. The opening sequence that recaps how everyone became a zombie would have a rave.
The Walking Dead Miami would definitely open with a Blade-like club scene. Everything is all chill; then one hot zombie chick sneaks her way into the VIP section and all hell breaks loose, igniting the inevitable chaotic scene of people trying to escape the carnage. Eventually the main characters of The Walking Dead Miami are just a group of ravers that happened to escape imminent death together, and they eventually hole up in a Cuban café to regroup and figure out what the hell is going on.
9. Rick Grimes is at least half Puerto Rican.
There is obviously no cowboy shit going down in The Walking Dead Miami. The main character, Rick Grimes, would be named "Ricardo Gomez." Ricardo is also a cop, but he's much more street-savvy, and that helps the crew along the way. Ricardo has a checkered past with the Miami PD, one that includes multiple accusations of misuse of his Taser.
8. The Miami cast doesn't seek safety at a farm; they lock themselves in an Aventura Walmart.
I've been asking the same question for five seasons: Where are all of the Walmarts? Walmart is the first place you would want to be if zombies took over, and you can be sure that if the show were set in Miami, the first thing we would do is find a damn Costco or Walmart -- everything you need is there! These dummies in Georgia have been walking for years and have yet to come across a Walmart. That's impossible!
If TWD were set in Miami, I'd be the fat guy in the back of Walmart eating rotisserie chickens and holding a rifle.
7. Instead of setting up shop in an abandoned jail, they take over a cruise ship.
Oh, look, another way to show the Miami skyline! Instead of taking a jail overrun by zombies, the Miami crew would take a Carnival cruise ship. Once you clear out all the tourists and staff, it's a pretty perfect place to set up shop. You don't have to worry about your back, so you can basically concentrate on one entrance. This is so Miami.
6. Old man Dale is just a guy nicknamed Tio Dale.
Tio Dale is really wise and probably played by Steven Bauer. Just like Dale from the original Walking Dead, Tio Dale offers advice when you're least looking for it. Tio Dale is, incidentally, a perfect Miami DJ name, so we can safely assume that's what Bauer's character was before the zombie virus broke out.
5. Everyone in The Walking Dead Miami is way more prepared for shit to hit the fan.
In Miami we have the threat of hurricanes to keep us on our toes, so we really weren't all that unprepared for a zombie apocalypse. Plus, way more people in Miami probably own heavy weaponry far more effective than the rifles and pocket knifes everyone in the Georgia setting has. So that's a major advantage.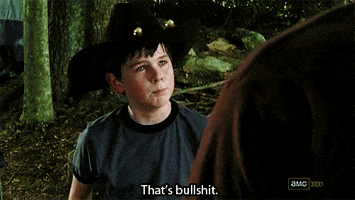 4. Rick's son Carl has a drug problem and can't stop stealing coke he finds in abandoned houses.
You knew at some point cocaine would be involved in The Walking Dead Miami. Grimes' son in the original TWD grows up wearing spurs and cowboys hats, but the Miami version of him is more likely to be a character out of the movie Dangerous Minds.
3. The Walking Dead Miami would have celebrity appearances.
You know at this point in TWD's popularity that Hollywood East would take advantage of the platform. Pitbull would show up as an extra zombie, and maybe even Will Smith would appear in a few episodes as a concerned neighbor who helps the main cast barely escape a zombie problem.
2. Of course, at some point bath salts would come up. Just because Floridaman is dead, doesn't mean he's not still Floridaman.
At the height of The Walking Dead's popularity came the infamous 2012 "bath salts face-eater" story. You have to imagine it would have been worked into a story line in season four or five by now. Now that I think about it, there would probably be different strains of zombie-virus infections in the Miami version of TWD. There would definitely be zombies that crave bath salts and your face to sustain life.
1. The music would be so hella Miami.
Zombies eatin' people to the soundtrack of Flo Rida, the Miami Sound Machine, and Rick Ross. Seriously, it's time for a spinoff already.
---
Follow us on Facebook at Miami New Times Arts & Culture.
Keep Miami New Times Free... Since we started Miami New Times, it has been defined as the free, independent voice of Miami, and we would like to keep it that way. Offering our readers free access to incisive coverage of local news, food and culture. Producing stories on everything from political scandals to the hottest new bands, with gutsy reporting, stylish writing, and staffers who've won everything from the Society of Professional Journalists' Sigma Delta Chi feature-writing award to the Casey Medal for Meritorious Journalism. But with local journalism's existence under siege and advertising revenue setbacks having a larger impact, it is important now more than ever for us to rally support behind funding our local journalism. You can help by participating in our "I Support" membership program, allowing us to keep covering Miami with no paywalls.